Google Ads Landing Page Experience: How to Get an Above Average Rating and Maximise Your Quality Score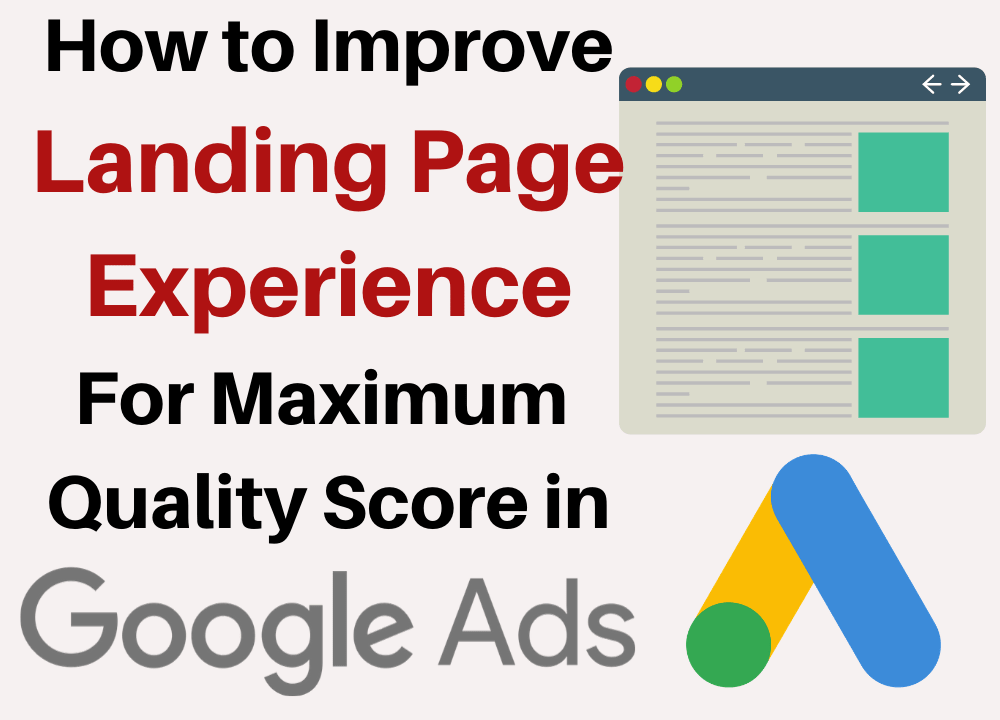 The Google Ads landing page experience is an important component of each of your keyword's Quality Scores.
Why Does Google Place an Importance On Your Landing Page Experience?
One of Google's main objectives is to ensure that their users are served with the best possible results for their search query.
If people were consistently linked with content that they do not find useful, or a website that gave them a bad experience, then they would eventually stop using Google search.
For this reason, use a ranking system to compare the websites of the various advertisers bidding on a given keyword.
How Is Landing Page Experience Assessed
Your landing page will be assessed by both bots that automatically crawl your site, and staff who will carry out a manual review.
Together these assessments will be used to categorise your landing page as either
Above Average: The experience on your landing page is excellent compared to other advertisers for the keyword in question.
Average: The experience on your landing page is OK, but it has room for improvement.
Below Average: The experience on your landing page doesn't meet the standard, and needs improvement.
How to Review Your Keyword's Landing Page Experience
To view the Landing Page Experience for your keywords:
Navigate to the Keywords section of your account
Select 'Columns' and ensure that the 'Landing Page Experience' column has been added
Review the rating, which will be either "Below Average", "Average", "Above Average", or "-" if there is not yet sufficient data
If your rating is "Average" or "Below Average" – then there's room for improvement
How to Improve Your 'Landing Page Experience'
When it comes to 'Landing Page Experience, there is a set criteria Google users to categorise pages as either above or below average.
The more of these criteria you meet, compared to your competitors, the better your rating will be.
It's important to understand however, that some of these criteria are quite vague, or subjective.
Whether you meet the criteria or not will be down to the opinion of the individual manul reviewer reviewing your page.
Here is a full break-down of the criteria offered by Google.
Speed: Does it load quickly, or does it keep the user waiting around for 3 or more seconds? Test your site's mobile speed here.

Information: Does your page offer an adequate level of information for visitors to make a decision? We've found that having at least 500-1000 words is a good amount to aim for.

Responsive: Is your page responsive and easy to navigate on mobile and tablet devices? Google places heavy emphasis on how well your website performs on mobile.

Above the fold: Is there valuable information above the fold? We've found that pages that have limited content, or just a form or an image above the fold, tend to find it harder to get a good rating.
Brand Meets Expectations: Do you have a strong brand that exudes authority, and integrity within your sector? Of course this is very subjective, and this will mean something different for each industry. A tattoo parlour's website is going to require a completely different colour scheme and brand in order to appear authentic, compared to a law firm.

Transparency: It's important to come across as legitimate, credible, and trustworthy. Make sure it's easy for visitors to access your terms, privacy policy, contact information, and details of how you will secure their information.

Unique Content: Are you offering something new that allows you to differentiate yourself from your competitors, or are you offering the same thing as all of the other advertisers?

Spammy Content and Features: Does your site have any annoying pop-ups? Is it full of ads? Are there multiple email optin forms. These can be viewed as detrimental to the overall user experience.
An Above Average 'Landing Page Experience' Can Be Elusive, But Keep Trying!
Achieving an 'Above Average' rating can at times, seem to be very elusive.
But the important thing is to ensure that you meet as many of the criteria possible, to give your page the best chance of getting an above average rating.
A side effect of doing this is that the experience for your visitors should improve by doing this, which should improve your retention of those visitors, and possibly increase the percentage of visitors who become customers.
So there is no down-side to improving your landing page. Even if you don't see an above average rating, it's still worth making the adjustments.
Need Help With Your Google Ads Account?
If you're struggling to achieve an Above Average rating for your keyword's Landing Page Experience, and would like an expert to review your account, then feel free to get in contact with us and we'll have one of our specialists get in contact with you.