Search Term Report AdWords (Google Ads): Learn to Save Money With Negative Keywords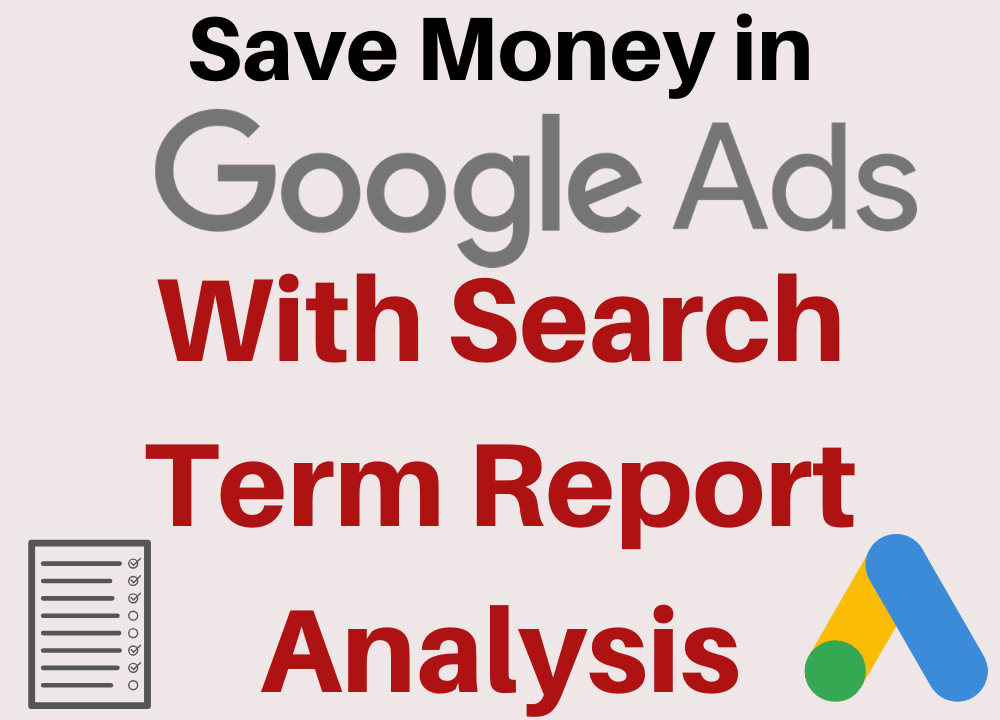 The success or failure of a Google Ads search campaign hinges on the effectiveness of the search terms being targeted.
Despite this, when reviewing new Google Ads accounts for clients, one of the main contributors we find for low levels of profitability for campaigns, is non-relevant search terms being targeted.
These are terms being used by people who have no interest in the products or services being marketed by the campaign, and are therefore a waste of the campaign's budget.
Within this article you'll learn how to quickly identify these terms, and remove them from the targeting of your campaign, in order to save money and increase your campaign's profitability.
Finding Your Search Term Report
The first step is to navigate to the search term report for your campaign by selecting 'Keywords' tab from the left menu, and then selecting 'Search Terms' in the top menu.
Ensure that you have set the date range in the top right hand corner to the time frame you would like to review.
Filters to Use Within The Search Term Report
Before starting to review the terms, you can save time by using a number of filters:
Added/Excluded: None – This ensures you're not reviewing terms you've already taken an action for)
Conversions: <1 – This way you're only reviewing the terms which are potentially wasting ad spend.
Match Type: Select all except 'Exact match' – This way you're not reviewing terms which you are already targeting as keywords.
Identifying Non-Relevant Search Terms
Within the search term report, you should review each of the terms and try to gauge the intent.
The key to identifying non-relevant search terms, is putting yourself in the shoes of the person using the search query.
Ask yourself 'what would I be looking for if I used this search term'?
Would you be looking to purchase the product or service being marketed by the campaign in question? If the answer is no, then it is very likely that you have found a non-relevant search term.
For example, if the campaign in question is marketing solicitors services, and the search term in question is "solicitors average salary"; it is clear that the person using this term is not looking to hire a solicitor, but rather is doing research on the salaries of solicitors.
Blocking Non-Relevant Search Terms
Once you have identified a non-relevant search term, it is time to add a negative keyword to the campaign in order to block that search term.
This can be done very simply and quickly within the search term report by selecting the checkbox next to the search term in question, and then clicking the 'Add as negative keyword' option at the top of the report.
However, there are several ways we can be far more effective with our negative keywords:
Instead of adding the full term as a negative keyword, e.g. "solicitors average salary", we can isolate the salient non-relevant part of the term "salary" and add this as a negative keyword.
Use the Phrase Match type, which is indicated by the use of quotes. So our negative keyword in the example would be "salary", rather than [salary]. This ensures that we will be blocking any search term which contains the word 'salary', which is a wider spectrum of terms.
We can also add other related terms as negative keywords, to preemptively block these from ever being targeted. Words like "salaries", "wages", "hourly rate" etc. These can be added within a negative keyword list.
Using Negative Keyword Lists
The search term report can also give you ideas about other terms which you may want to add as negative keywords, to block them from ever being targeted by your campaign in the first place.
These new negative keywords can be applied directly to the campaign, but they can also be added to a negative keyword list. This can be quicker to do and will mean that these negative keywords can conveniently be applied to any campaign within your account.
You can create negative keyword lists by selecting "Tools & Settings" in the top right hand corner of your account, and then "Negative keyword lists" from the menu.
We've created a list of over 13,500 common negative keywords that we would like to share with you.
Using these bulk negative keyword lists can help to avoid ad spend being wasted on non-relevant terms and improve the profitability of your campaigns.
Need Help With Your Google Ads Account?
If you feel your campaigns are not working as effectively as they could, and would like an expert to review your account, then feel free to get in contact with us and we'll have one of our specialists get in contact with you.